10 conversion rate optimization best practices in iGaming 2020
The iGaming industry is now at 45 busd business worldwide and is expected to grow at 14%. New regulations, technological advancements, and fierce competition are shaking up the way customers are betting online. Ever-growing numbers of iGaming operators are seeking to differentiate themselves in order to stand out from the crowded market by creating unique experiences.
The most important business objectives for iGaming operators are reducing unit costs in the acquisition, customer retention, and customer lifetime value increase. Many spend big budgets on advertising to acquire new players but many of those efforts are diluted if the website isn't performing to its best potential or meeting the player's expectations for a good gaming experience.
In addition, advertising is becoming more regulated and is now restricted in certain markets meaning that player engagement is ever more important. One player experience doesn't fit all, and it's important to recognize the importance of tailoring player experiences to their individual needs.
In this article, we've collected the best conversion rate optimization practices in your iGaming business in 2019 and beyond.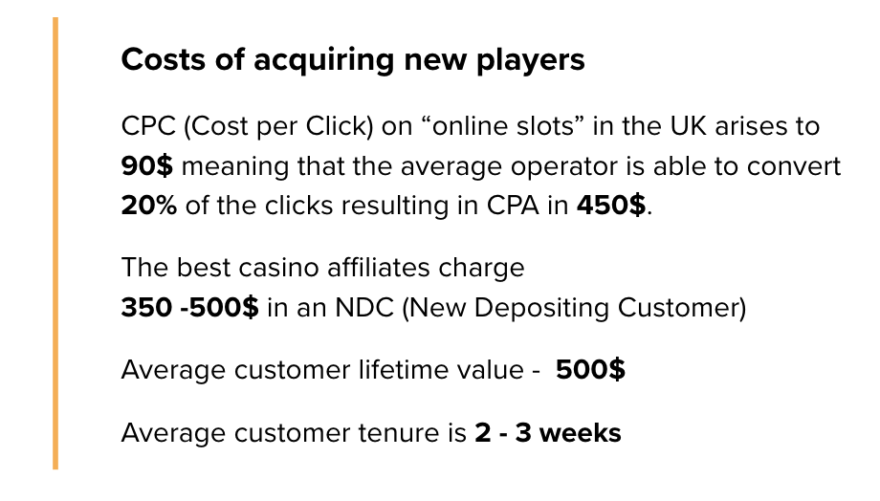 10% improvement in conversion increase reduces the acquisition cost by 41$ per player and improves the profit margin by 8%
1. Tailor player experience to their individual needs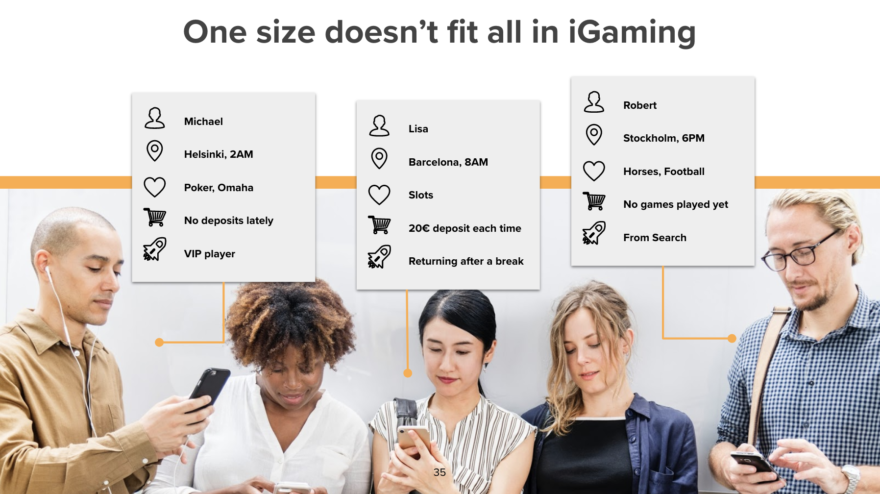 Recognizing individual player needs is the start of better conversion rates. This is called personalization and it starts by knowing your players' preferences and defining the segments the players belong to. What casino games are they more likely to play? What sports team are they fans of? What is their favorite horse? How willing are they to try something new? Most commonly recognized player segments for iGaming are based on:
Marketing source
Interest identification
Player profile identification
New or returning players
Understanding player intent
Early churn potential
Early VIP potential
The best results in conversion rate optimization are generated when historical player data from different channels is combined with real-time behavioral data. This combination of data can be used to deliver each player with personalized recommendations, content, and promotions that they are most likely to engage with. Engaged customers will lead to better customer retention rates and customer lifetime value.
2. Make the homepage relevant for your players
By now, we've established that for the iGaming business to thrive, the player experience needs to be exceptionally good and personalized. But player experience requires much more than a pretty website. Ultimately, it's about understanding your players' needs and making the player experience personalized. Not forgetting the element of the thrill of finding new games to play.
The aim of any personalization is to offer the player content or guidance that is relevant in their situation and individual needs. The relevancy drives the likelihood of conversion rates and transaction value. When you know your players, personalization can be applied dynamically. This could be based on a horse race or game schedules, the player's channel (e.g. mobile, desktop), geolocation, or the time of day or based on real-time behavior. For example, if a player is behaving in a way that can be interpreted as a high intent to convert and purchase, you might want to promote options such as live games or new bets.
Personalization will allow you to take advantage of such an intent, leading to greater conversion rates and customer satisfaction. The ability to show relevant and personalized content on the first page of your service can have a 4x impact on conversion rates. For example, ushering your roulette-playing live casino customer back to your service and directly loading the live roulette game lobby. Or ensuring that a Real Madrid football fan who bets routinely on the team is served a pop-up acknowledging this type of behavior and welcomes the player with Real Madrid-themed content and a relevant bet option.
Here are examples of tailored personalized experiences that are tied to business objectives: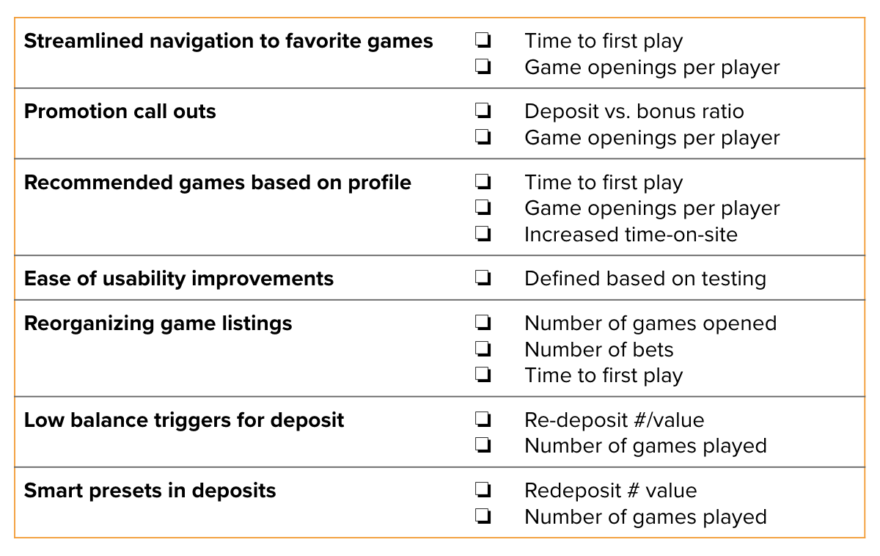 Customer case: When a user visits Twinspires, they're usually ready to bet on their favorite event or horse. So it makes sense to highlight that particular event or horse as early as possible in the player journey. By personalizing which races a user sees, and segmenting according to previous behavior on the site, the convenience of using the site greatly increases.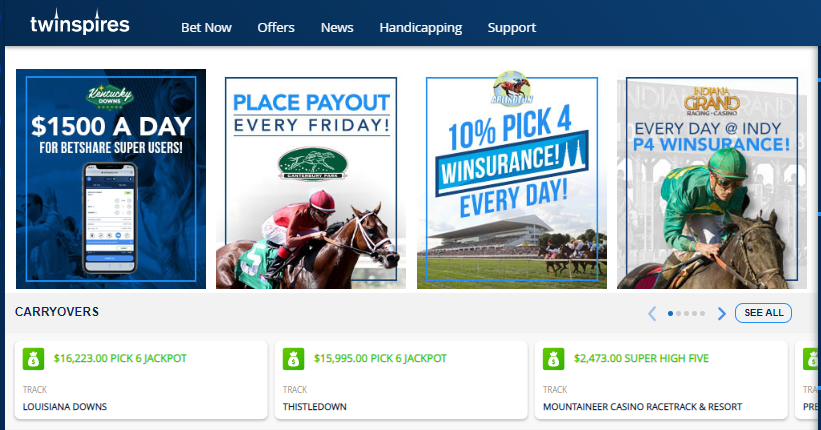 3. Learn from player behavior with the help of AI
The preferences of players are difficult to predetermine and preferences also change over time. Artificial intelligence accelerates understanding player behavior which is the first step towards excellent player experience. Here are some of the best practices on how to continuously learn about the player's behavior and how to implement those learnings to serve them best suitable games, bets, and content. Collaborative filtering is a common technique to find similarities in players and recommend the next slots or games according to the most views and played games.
The main applications of collaborative filtering can be:
Discovering similar players.
Discovering similar games.
Finding the potential interest of a user in specific products for targeted marketing (Recommendation).
Apply AI for VIP user prediction. Only 1-5% of players are VIP users but they contribute 60-80% of the revenue and therefore a very important group to any iGaming operator. Earlier and more accurate VIP customer prediction model brings better customer lifetime value. For a player, AI creates a more immersive and fun gaming/betting experience. With AI, you can create a feeling that the casino is tailored to the player's individual needs. AI helps to identify behaviors that might lead to loyalty early on and is then able to serve those customers with special offers and player journeys.
For the best conversion results, real-time onsite behavioral data should be combined with the CRM data. Individual VIP player prediction can achieve an accuracy of up to 86% in as early as 3 days after sign-up. Prediction data is used to tailor the player journey according to the players' interest including streamlined navigation bars, call-outs, recommended games based on profile and real-time behavior, reorganized game listings, and campaign targeting. More examples are given later in this article.
Reduce churn as early as possible. By definition, churn represents the act of a customer leaving the platform for good. Specifically, in iGaming, the churn rate is relatively high. Therefore it is important to address the customer churn early in order to enable the businesses to employ a successful prevention and retention methodology. Implement supervised machine learning models to learn from the past behavior of the users (CRM data) and predict future probabilities of any user leaving the service.
4. Use social proof to promote games and drive a sense of urgency
Social proof plays a major role in your player's purchase decisions. Even when people are impressed by your services, they almost always look at the actions of others to guide their decision-making process. Simply, social proof helps you build trust in your online business. You might want to show the first-time player how many active players there are on the site and what they are playing at that particular moment. Testimonials and game ratings are also an effective way of using social proof to promote games and make conversions go up.
5. Cross-sell for better customer retention and customer lifetime value
Different platforms for casinos and sports bring challenges to iGaming operators as they typically don't share customer data and insights. With personalization, the behavioral data can be easily shared between the two platforms allowing highly targeted content tailored to players' preferences and creating opportunities to cross-sell between the platforms, ie. display casino games that the player is most likely interested in and show the content in the most relevant areas, ie. on the sports lobby when the visitor is most likely to engage.
This approach provides a connected feel between your two main products, clearly increasing engagement and conversions. The best practice in providing the cross-sell promotions of casino games is to use collaborative filtering combined with player segmentation.
Customer case: Dafabet introduced new hovering menus to their site, where new, as well as old games can be recommended to players in a more personalized and visual way. By suggesting new games according to the customers' tastes, Dafabet has been able to increase their gross sales significantly.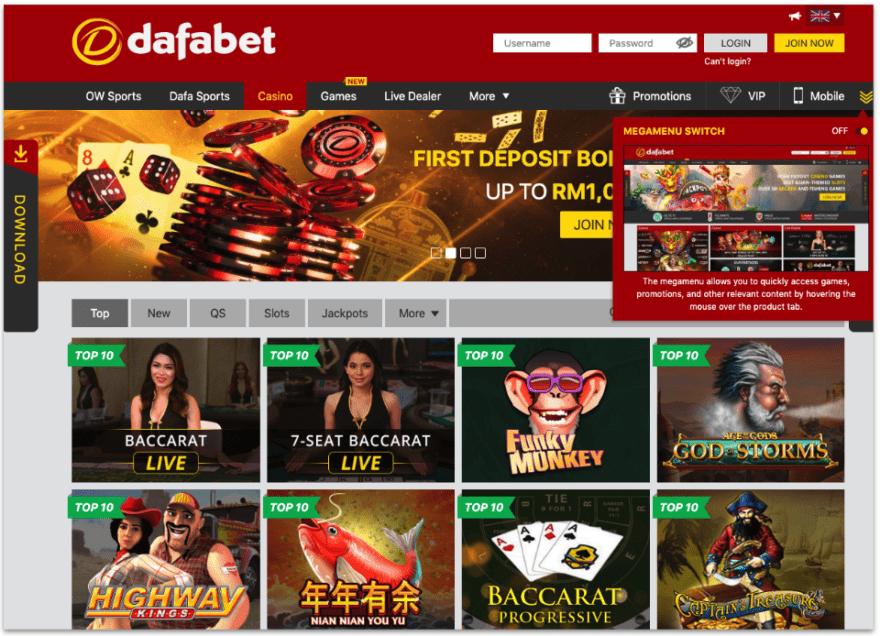 6. Achieve player loyalty and retention with these proven tactics
Keeping the right customers is valuable because their conversion rates are naturally higher without high acquisition costs. According to Harvard Business School, a 5 % customer retention improvement can easily lead to a 25 % – 95% increase in earnings. So it's important to pay attention to loyalty and retention tactics. Below are some examples of proven methods that are driving loyalty and retention.
Make returning customers welcome through dynamic front pages showing content according to last played or most played game.
Predict VIP players and those who are about to churn. Use social proof tactics and show promotions to engage target players.
Use RTP figures to recommend certain games to individual players to help them be successful.
Use gamification to increase player participation i.e. introduce progress bars and reward callouts during games.
Use personalized CTA's to push the right bonus at the right moment. Use deposit callouts and smart deposit preset to acknowledge the fact that players' deposits are getting low.
Maximize the time that the players are in your service implement recommendations and show new games and casino slots according to the players' interest.
Drive CTA's and recommendations as A/B tests or with AI-powered multi-armed bandit testing to show the most relevant games and content according to the player's behavior.
Elastic search bars learn and self-optimize to display relevant content according to a player's personal intent.
7. Recommendations for better engagement
Recommendations are a powerful way to increase conversion rates and the player's lifetime value. AI-powered recommendations ensure that you're harnessing all of the data available on every touchpoint of your service. You can leverage this data to start predicting what slot/game/market your player would like to see next. This continuous combination of learning from a player's product interest, their profiles, and the context of their visit, means that you can offer highly targeted, relevant, and engaging content.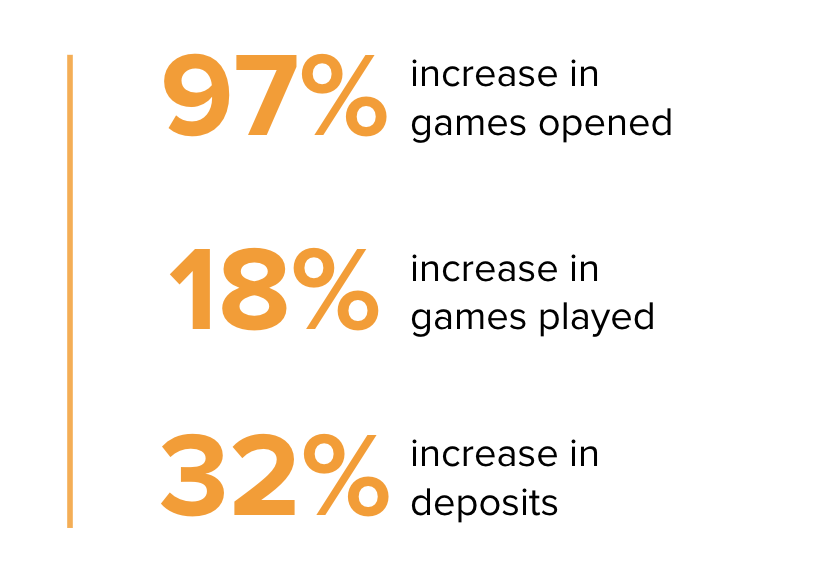 Recommendations could reorder your casino lobby by creating an entirely new look and feel, or vary which sports markets are displayed to each individual user. Doing this provides a relevant and engaging experience that will increase retention. Accenture has stated that 91% of consumers will remember a brand and be more likely to return when they have been provided with relevant offers and recommendations to engage with. We've seen brands experienced a 20% increase in customers engaging and viewing casino content when in the sport lobby with personalized recommendations.
Customer case: 188BET can be sure that they are serving the right content to the right customer at the right time. Machine learning helps them to select content based on a deep understanding of the players' preferences. 188BET has managed to reduce its churn to the lowest continual level.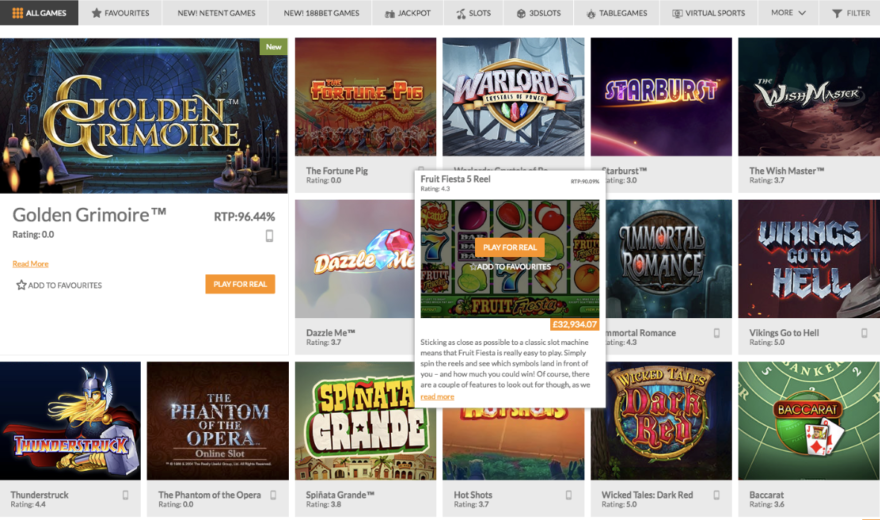 8. Experimentation and testing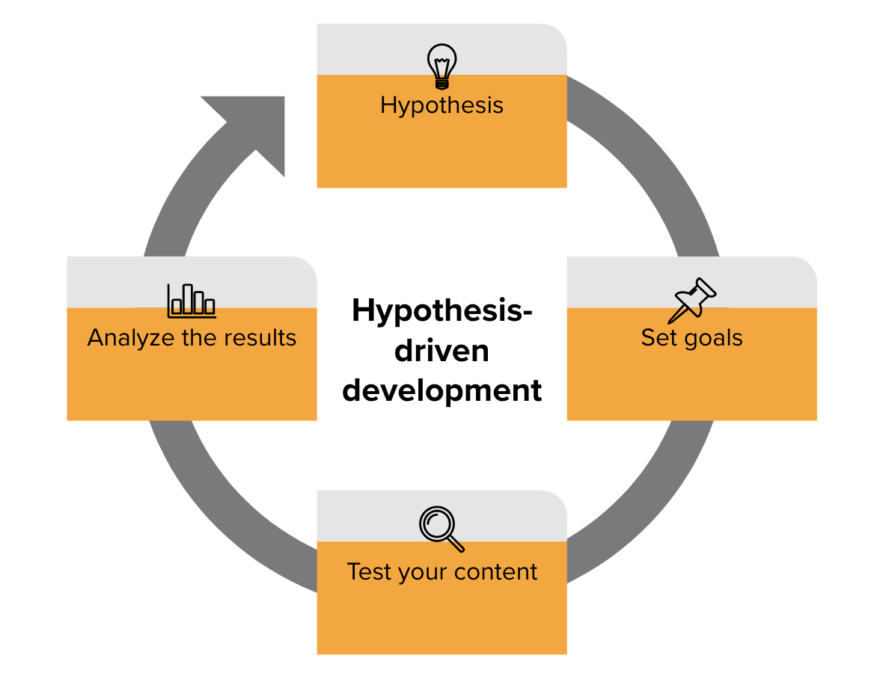 Testing is always crucial as many improvements can cumulatively turn into big conversion rate generators. Testing helps you to gather data to show what should be developed next, reduce risks in costs, understand the audience on a deeper level, and solve pain points your visitors might have. We recommend to start testing with a solid hypothesis – know why you want to test, what are the conversion rate goals, and end expectations. Use A/B/n testing to find out which variations perform better on a website. Examples of what you can test are banners, recommendations, navigation, CTA's, Social proofs, and content.
Learn more about A/B/n testing from this short video: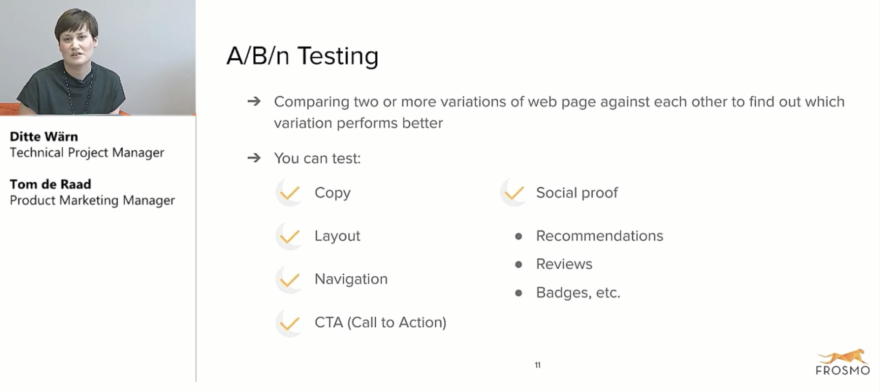 Multi-armed bandit testing makes testing faster and smarter with machine learning. With multi-armed bandit experiments, you're able to continuously learn and optimize your site whilst running your test. You'll be earning while conversion rates are going up.
Learn more about multi-armed bandit in this short video: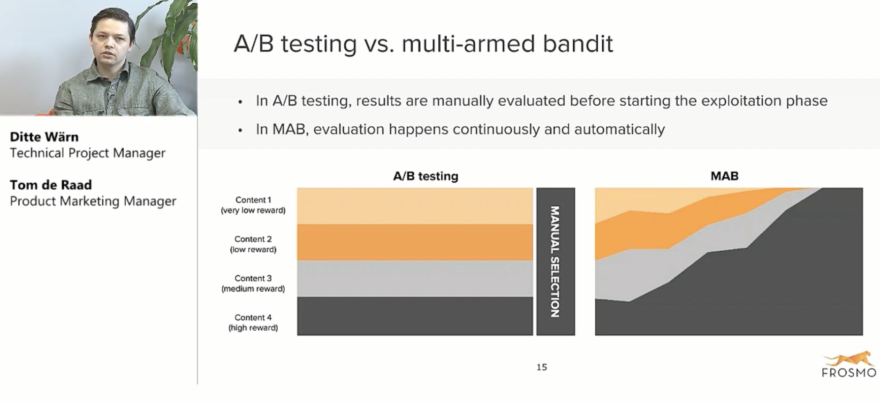 9. Empower affiliate connections
The customer journey starts from the affiliate website and the continuous player journey needs to be built from that point. Improving your conversion rates by focusing on dynamic content within the frontpage and personalized player journeys. Doing this will benefit your affiliates as the value will be maximized against competitors and increase customer lifetime value in a responsible way. Gambling operators ensure that their customers know to stop when the fun stops.
The introduction of machine learning algorithms can be deployed easily and quickly identify users who are likely to self-exclude. Other ways to utilize machine learning include methods such as reality-check messages, promoting the setting of the account limits, and offering a time-out. With advanced segmentation, a customized player journey can be rolled out to what matches their individual needs and tastes, whilst keeping the service responsibly and with the user's best in mind.
10. AI for Fraud detection
Fraud and abuse can incur a significant cost for iGaming operators. The ability to detect and take early action on a player by a player on fraud cases can have a significant positive impact on the bottom line. Machine learning helps to identify and make real-time judgments when a player shows behavioral patterns that are consistent with bonus abuse, promotion predators, and account hijacking. These measures also shield honest players, providing a smoother and undisrupted experience of the service.
---
About the writer: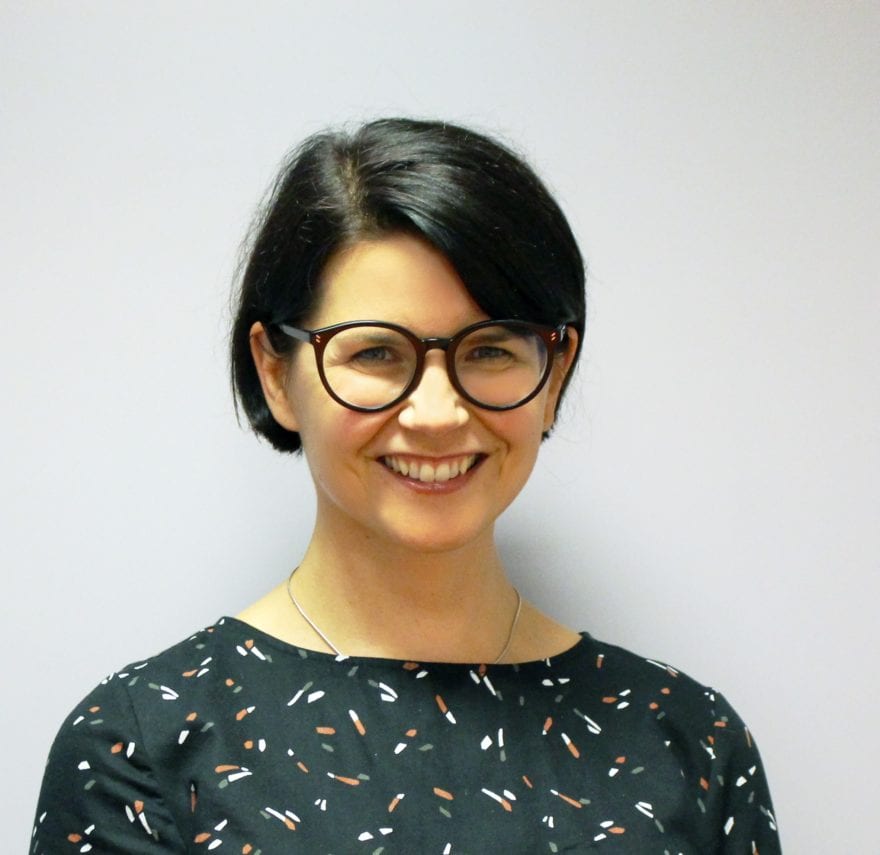 Tanja Säde is the Chief of Marketing at Frosmo. With 20 years of experience in technology marketing, she is always curious about the latest technologies and marketing trends. She is enthusiastic about creating superior digital customer experiences through data, personalization, and AI. Outside of work, she is a yoga addict.