How personalization transforms online retail in 2020
Better optimized shopping funnels, lower bounce rates, better ROI in advertising spend, larger average order sizes, better cross-selling, and the list goes on. Do these challenges in your online retail sound familiar? These are the pain points we see our online retail customers tackle every day. We strongly believe that the best way to tackle the challenges and get the best possible business results is the website personalization.  
In this article, we'll explain what personalization is, why is it important, and what are the best practices to optimize your online retail business in 2020 and beyond.
What is personalization in online retail?
Personalization is about creating a custom-tailored and seamless customer experience based on what you know about a person's needs, wants, and preferences. Personalization enables online retailers to move away from the one-size-fits-all approach by presenting the relevant message at the right time across all touchpoints along the customer journey.
When customer needs can be anticipated, it's easier to enhance customer satisfaction and drive impact to the bottom line. Personalization establishes the foundation for the ultimate omnichannel experience, paving the way to enhanced customer experience across all channels and devices.  
In practice, two dimensions are needed for a meaningful personalization. First, you take the history of the visitor, i.e. the earlier purchase and exit history, downloads, product, and content searchers. That information is coupled with contextual information such as day of the week, season and weather, location, device, and campaign.  
When you combine the history and the context information, the real personalization starts. Personalization is the core part of the experience that online businesses provide. Continuous testing is needed to optimize the experience as well as to find the optimal elements to drive conversions and other KPI on the website.

Why is personalization important?
The attention span of an average consumer is getting shorter and shorter. On desktop but even more critically on mobile, the "real estate" of providing the relevant content to your web visitors is really small. The first message needs to be personalized to get the attention of the web visitors and present to them the next clear steps to follow. 
Think of personalization as a very good customer service. All website visitors have unique circumstances and therefore, they are in different stages in their buying journeys i.e. one is visiting the website for the first time, one is visiting the website through google ads campaign, and one has abandoned the shopping cart twice already. 
So, it really makes a business sense to provide dynamic content to meet the needs of different people in these distinctive stages of their customer journeys. Simply put, personalization is helping your customers to find the most relevant content to move through the buying journey in the most efficient way. 
For retail brands, personalization can be quite challenging not only because of too many competitors, but also due to the number of places, and ways that customers can shop.
A recent BCG study found that with personalized online retail stores, consumers are 10% more likely to add additional items to their baskets and 40% more likely to spend more than they had planned. Moreover, when asked to rate a particular retailer, customers who experienced a high level of personalization provided net promoter scores that were 20% higher than those of customers who experienced a low level of personalization. Customers are increasingly willing to share personal data with trusted brands in exchange for tangible benefits, such as an easier and faster buying process.
The business benefits of personalization
It's important to think of a business case on two levels; one is about making more conversions and revenues, and the other is reducing the expenses. The KPIs that most online retail businesses are looking for are increasing conversion rates, average basket sizes, and loyalty. 
Expenses can be reduced by faster experience optimization thorough hypothesis creation and with algorithm-based experimentation. Ecommerce customers also report having to do less front-end development work as it's easier and quicker to do that with personalization software.  Marketers also report a reduction in acquisition costs and improvements in conversion rates from advertising.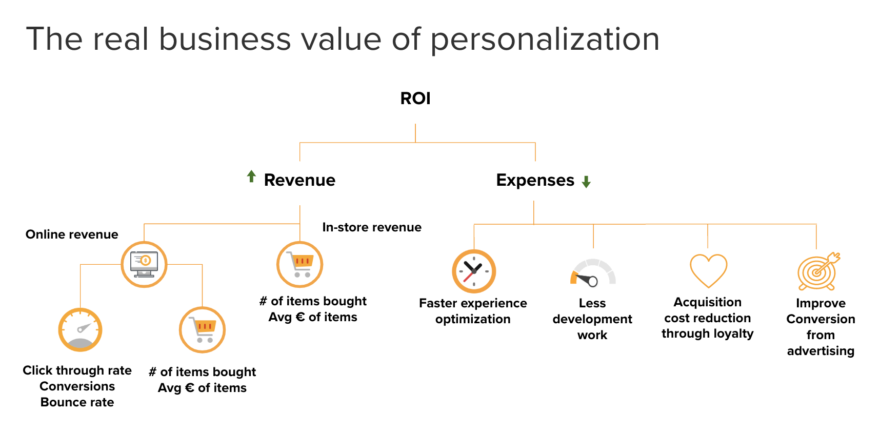 Benefits to consumers:
Better overall customer experience

Increased and improved relevancy of content and experiences

Reduced clutter when visiting the site, which allows for faster interactions with the brand

Easier to find relevant products and services

More control over the customer experience, which leads to improved brand trust and loyalty

Improved engagement with the brand 

Better connection between personalization brought by marketing automation tools and  website personalization
Benefits to online retail stores:
Optimized shopping funnels

Reduced bounce rates

Brand credibility and enhanced authenticity

Improved customer insights and data

Increased conversion rates and more opportunities for customer engagement

Improved customer retention and customer acquisition

Increased customer satisfaction and better customer support

Empowered salespeople

Increased revenues, sales, order values, and subscriptions

More traffic to the site and more customers through referrals

Improved brand association and loyalty
In omnichannel businesses, many customer journeys might begin online and lead to in-store purchases – or even the other way around. The correlations and KPIs get slightly harder to measure, but the same basic principles still apply. These lead to increased revenues and profit (assuming pricing, performance, availability, shipping, assortment, etc. are up to par).
The positive experience (that in the first place led to the visitor's transaction) in the service consequently increases loyalty and word of mouth based brand recognition.
The anatomy of personalization in the online retail
By now, we've established that for the online retail business to thrive, the customer experience needs to be exceptionally good and personalized. Personalization starts by knowing who your customers are. 
Most commonly recognized customer segments for retail are based on: 
Origin (campaigns, other sites, etc)

New / returning users

Purchase frequency, recency, and volume

Individual interest areas

Past behavior

Collaborative recommendations

States in the purchase process

Demographics, location, weather, device, etc. 
Secondly, you need to think of when personalization happens in the online store. What is the most ideal point in the customer journey for the dynamic content to be shown to the segment or individual? It's important to Identify the typical points where the visitors may abandon their cart, leave the site, or bounce. This is the first step to design a strategy for inviting visitors to carry out the transaction or to continue the session. Contextual and dynamic calls to action (CTAs) give the visitor the motivation to proceed with an action or transaction.
A good time to show personalized content can be, for example, after the visitor has spent some time on the site, added a product to the website and is about to exit or leave the shopping basket. Combine these triggers to create, personalize, and implement the entire user journeys on your online stores. 
The third dimension is to define the place where to show personalized content. Homepage, category page, product page, and shopping basket to name a few. 
To complete the personalization, you need to think of what content you want to show your segments or individuals. Dynamic content can include banners, pictures, textual content, components, content blocks, or navigation adapted to different audiences explained earlier in this article. Relevancy of the content displayed for the visitor increases conversion and engagement while improving the customer experience.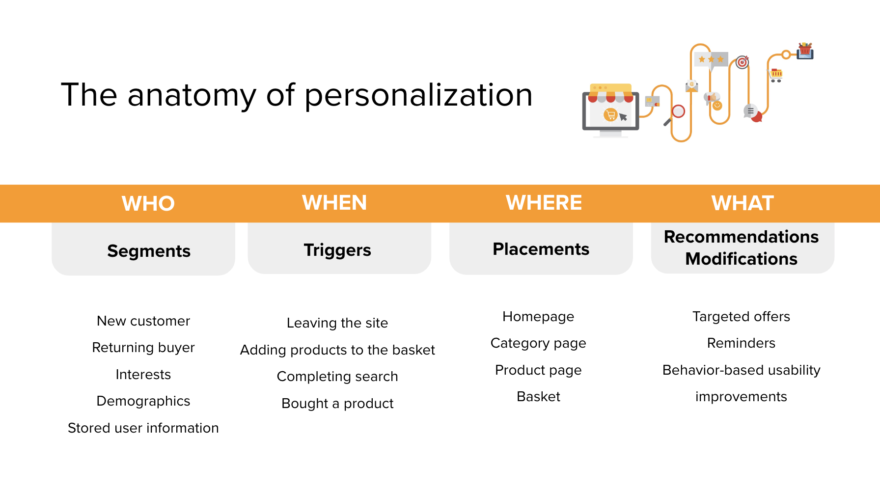 Recommendations for optimized shopping funnel
When many of your products are similar, it's essential to help customers pick the right product for their needs. Product recommendations are a powerful tool to drive discovery, promotion, and cross/up-sell in online retail without the need to manually define the related products. AI-powered recommendations ensure that you're harnessing all of the data available on every touchpoint of your online shop. You can leverage this data to start predicting what the web visitor would like to see next. This continuous combination of learning from a product interest, their profiles, and the context of their visit, means that you can offer highly targeted, relevant, and engaging recommendations. 
Accenture has stated that 91% of consumers will remember a brand and be more likely to return when they have been provided with relevant offers and recommendations to engage with. We've seen brands experienced a 20% increase in customers engaging and viewing casino content when in the sport lobby with personalized recommendations.
Case study: On the front page of Clas Ohlson's webshop, the Frosmo Platform is used to show the most viewed and most bought products. When buying a product, there are many different ways of recommending other products to accompany the initial item of interest. For example, if you buy a robot lawnmower, your recommendations will show the right add-ons for your lawnmower such as cables and tools to complement the product; extras such as a storage unit, accessories; and finally, what others have bought with the lawnmower. With add-ons, upselling, and recommendations, Clas Ohlson sees an 8% increase in average order value and a 27% increase in bought articles.
Make a data-driven decision with continuous testing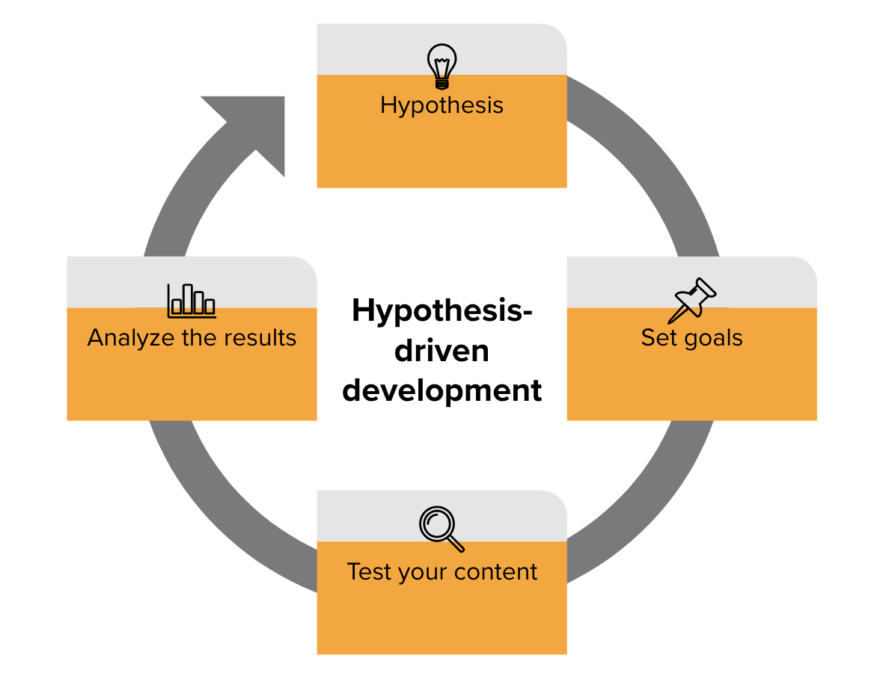 Experimentation is always crucial as many improvements can cumulatively turn into big conversion rate generators. Testing helps you to gather data to show what should be developed next, reduce risks in costs, understand the audience on a deeper level, and solve the pain points that your visitors might have. 
We recommend to start testing with a solid hypothesis – know why you want to test, what are the conversion rate goals, and the end expectations. Use A/B/n testing to find out which variations perform better on a website. Examples of what you can test are banners, recommendations, navigation, CTA's, social proofs, and content.
Customer case: With customers' expectations increasing, Reima wants them to experience positive surprises when shopping online. For example, Frosmo is helping Reima to explain the uniqueness of the clothes by highlighting hero products and bringing extra stories to support faster decision-making.
This involves continuous smaller improvements to the site and thus A/B testing has increased its importance. Continuous analysis of the test results running on Reima's sites has been crucial to making data-driven decisions. Frosmo plays an important role as it offers the testing capabilities and allows fast time-to-market for visitors to see continuous new elements on the site.
Multi-armed bandit testing makes testing faster and smarter with machine learning. With multi-armed bandit experiments, you're able to continuously learn and optimize your site whilst running your test. You'll be earning while conversion rates are going up.
What's next?
Still wondering if personalization could improve your online business? Use our business case calculator for retail businesses to quickly and easily evaluate the business impact of personalization on your online business. This is a specially-designed tool carefully put together from more than a decade of knowledge and experience with implementing personalization for retail businesses. Actual results vary between businesses.
---
About the writer: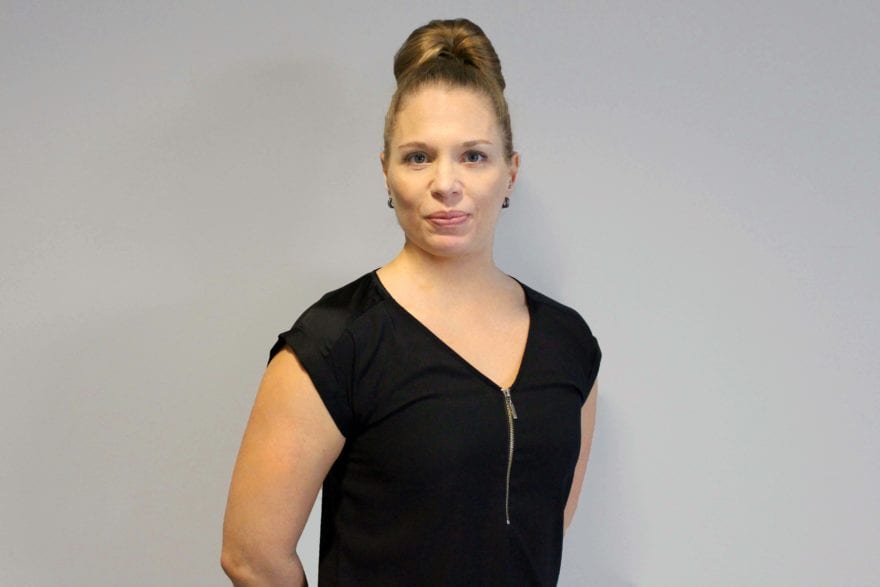 Katja Kokko
 is passionate about strategically developing digital businesses and creating memorable digital customer experiences on a tactical level— what she gets to do as Customer Success Director with her clients and her team. She is a growth hacker by heart and with her exceptional interpersonal and leadership skills, she thrives in challenging business cases as these challenge her to think differently and out of the box.