Press release: Nurmijärvi aims for better website usability and targeted crisis communication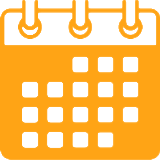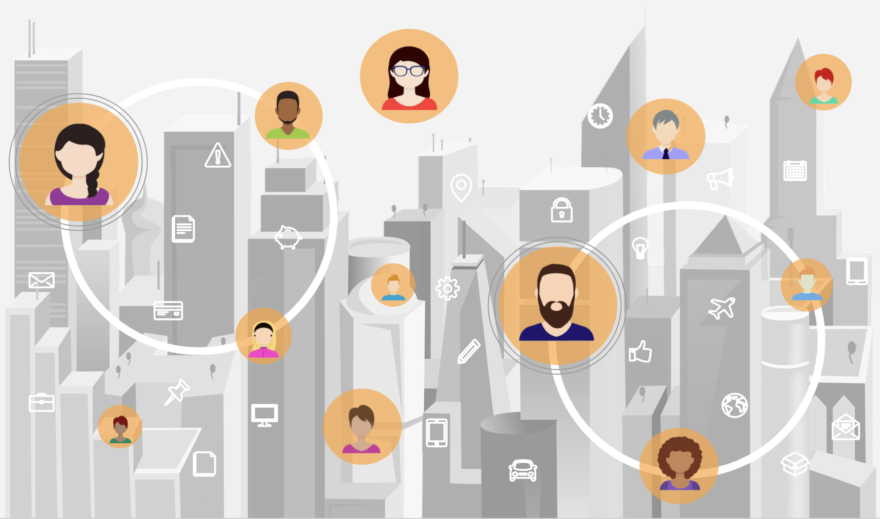 Finnish Municipality of Nurmijärvi takes part in a pilot program with the Prime Minister's Office as Frosmo aims for better website usability and targeted crisis communication
Nurmijärvi participates in the pilot program where the aim is to enhance user experiences on their website. This is achieved by improving the accessibility of relevant information by recommending content according to the interest of the users. The pilot program will help Nurmijärvi to deliver easily accessible and personalized communication to all its citizens, for example, personalized content to different geographical locations.
Spring 2020 has proven the importance of trustworthy and timely communication. Cities and municipalities play an important role in making sure that their citizens have easy access to the information they need. Often, the challenge is to make sure that the right information is easily found by many different target groups that these organizations have.
The pilot program involves the Prime Minister's office, the Municipality of Nurmijärvi, and the technology company, Frosmo.
It will test three different features to enhance the usability of the Nurmijärvi website. The first feature will include a popup with a link to the QA document that is located on the Prime Minister's Office's website. For example, if a visitor seeks information about how the COVID-19 pandemic has affected primary schools on the Nurmijärvi website, the visitor is recommended to visit the Prime Minister office's website to read more about the topic.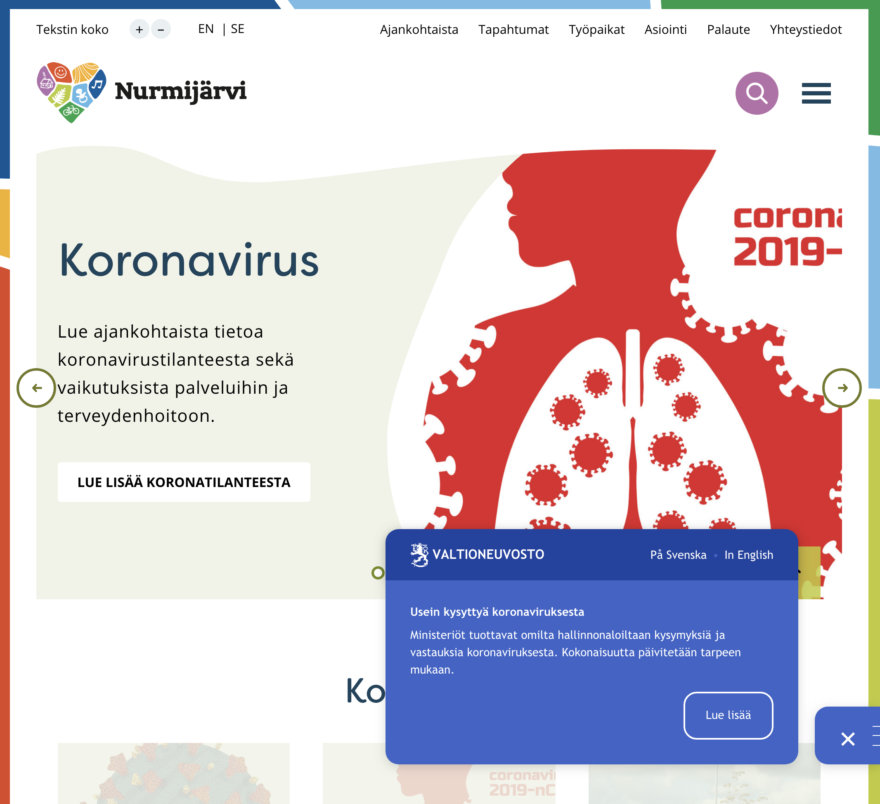 The second feature includes a crisis communication ribbon that is shown on all Nurmijärvi web pages immediately after it has been deployed centrally. 
The third feature includes a personalized content block that delivers targeted and interesting content according to visitors' interests. This AI-driven feature will recommend three categories to users: last viewed, others also viewed, and trending topics.
These three features will bring better user experiences and better usability of the service by providing trustworthy and rapid crisis communication and relevant content based on the interest of the visitor.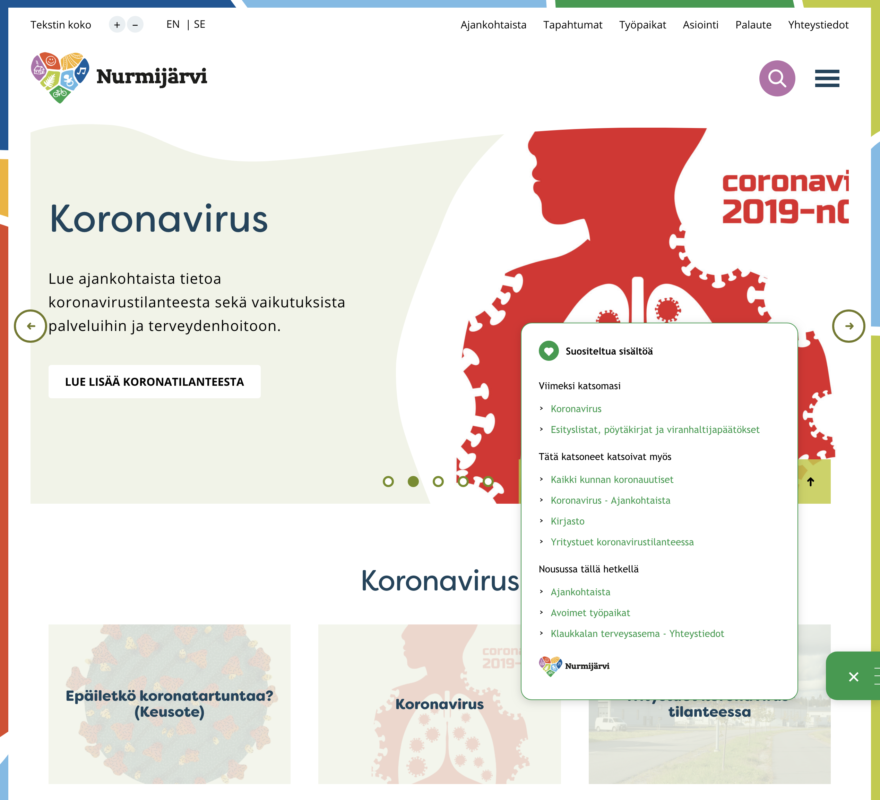 "It is very important that all of our citizens find newsworthy and important information fast and in the format they can trust. Today, cities and municipalities also need to think of user experience and this pilot program will deliver features that bring the Nurmijärvi citizens and their needs to the center of the service. The services must also be easy to use and easily accessible", says Nurmijärvi Communication Manager Teemu Siltanen.
"It's a pleasure to be part of this project to develop web services that are more user-friendly and takes into account the different needs and interests of the users. It's also important that all cities and municipalities have access to the latest web technologies that can be deployed fast and easy without big IT projects", says Frosmo CEO Mikael Gummerus.
Nurmijärvi is  Finland's largest rural municipality with 43 000 citizens.
The Prime Minister's Office supports the Prime Minister and the Government in the planning of Government matters and related decision making.
Frosmo is a Finnish SaaS company with an AI-driven personalization software operating since 2008.  Frosmo helps companies that provide web services to serve their web visitors better with targeted content that is personalized according to the interests of the visitor. Frosmo is fully GDPR compliant.
Nurmijärvi mukaan pilottiin valtioneuvoston kanslian ja Frosmon kanssa – tavoitteena sujuvampi verkkopalvelukokemus ja kohdennettu kriisiviestintä
Nurmijärvi lähti mukaan pilottihankkeeseen, jossa on tavoitteena sujuvoittaa kuntalaisten verkkopalvelukokemusta parantamalla sisältöjen löydettävyyttä käyttäjän omien kiinnostuskohteiden mukaan. Hanke parantaa kunnan mahdollisuutta ajantasaiseen ja räätälöityyn kriisiviestintään esimerkiksi kunnan eri maantieteellisille alueille.
Kevät 2020 on osoittanut ajantasaisen ja luotettavan tiedon jakamisen tärkeyden. Tiedon jakamisessa kunnilla ja kaupungeilla on erityisen suuri rooli. Usein haasteena on sisältöjen ajantasaisuus, löydettävyys sekä kohdistaminen oikealle kohderyhmälle.
Pilottihankkeessa ovat mukana valtioneuvoston kanslia, Nurmijärven kunta sekä teknologiatoimittaja Frosmo.
Pilottihankkeessa testataan kolmea Nurmijärven kunnan verkkosivustojen käytettävyyttä parantavaa toiminnallisuutta. Ensimmäisessä kokonaisuudessa Nurmijärven kunnan verkkosivuille tuodaan ponnahdusikkuna usein kysyttyihin kysymyksiin koronaviruksesta valtioneuvoston verkkosivustolla. Linkki ohjaa suoraan oikeaan paikkaan sivustolla. Esimerkiksi jos käyttäjä etsii tietoa koronan vaikutuksista peruskouluihin Nurmijärven sivuilla, hänelle tarjotaan mahdollisuutta siirtyä peruskouluja koskevaan kysymysosioon valtioneuvosto.fi:ssä.
Toisessa kokonaisuudessa Nurmijärven kunnalle tarjotaan mahdollisuus tehdä vaaratiedote, joka näkyy nauhana sivun ylälaidassa kaikissa kunnan palvelun piirissä olevissa verkkosivustoissa välittömästi julkaisun jälkeen.
Kolmanneksi Nurmijärven kunnan sivuille tuodaan koneoppimista hyödyntävä niin kutsuttu sisältöhissi, joka auttaa käyttäjää löytämään itselleen kiinnostavat ja ajankohtaiset sisällöt suosittelemalla kolmea kategoriaa: viimeksi katsotut, tätä katsoneet katsoivat myös sekä nousussa oleva sisältö.
Näillä toimenpiteillä tuodaan Nurmijärven kuntalaisille parempi verkkopalvelukokemus, jossa tärkeät kriisiviestit ja kunnan yleinen verkkosisällön löydettävyys helpottuvat.
"Meille on tärkeää, että kuntalaiset saavat ajankohtaisen tiedon varmasti, luotettavasti ja nopeasti. Tämä korostuu kriisitilanteissa. Tällä kotisivujen kehittämisellä varaudumme, mikäli koronatilanne huononee jälleen äkisti", Nurmijärven kunnan viestintäpäällikkö Teemu Siltanen sanoo. "Nykymaailmassa myös kuntien tulee olla asiakaslähtöisiä ja pilottihankkeessa tuodut ratkaisut tuovat kuntalaisten tarpeet, elämäntilanteet sekä mielenkiinnon kohteet keskiöön. Myös helppokäyttöisyyteen ja löydettävyyteen on kiinnitetty paljon huomiota", Siltanen näkee.
"On ilo saada olla mukana kehittämästä kuntien verkkopalveluiden asiakas- ja tarvelähtöisyyttä. On myös tärkeää että kunnat pääsevät mukaan viimeisempien verkkopalveluiden kehitysmenetelmien piiriin helposti ilman isoa ja aikaavievää IT-projektia", Frosmon CEO Mikael Gummerus iloitsee.
Nurmijärven kunnan viestintäpäällikkö
Nurmijärvi on yli 43 000 asukkaan kunta Uudellamaalla.
Valtioneuvoston kanslia on ministeriö, joka vastaa pääministerin johdolla hallitusohjelman toimeenpanon valvonnasta ja avustaa pääministeriä valtioneuvoston johtamisessa.
Frosmo on vuodesta 2008 toiminut, suomalainen pilvipalvelupohjainen ja tekoälyä hyödyntävä ohjelmistotalo. Frosmo auttaa verkkopalveluita tarjoavia organisaatioita palvelemaan verkkovierailijoita paremmin kiinnostuksen mukaan kohdennetulla, dynaamisella sisällöllä. Frosmo täyttää täysin yleisen tietosuoja-asetuksen (GDPR) ehdot.