What is website personalization?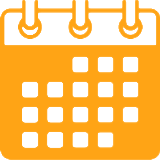 We all know that every web visitor and customer has different individual interests and needs. Every visit they make to your website or online shop is unique. The important question is, how can brands take those differences to make personalized customer experiences that help customers complete the task they need as smooth as possible?
For Gartner, personalization is defined as:
Software that applies context about individual users to select, tailor and deliver messaging such as content, offers and other interactions through digital channels in support of three use cases: marketing, digital commerce, and customer experience (CX).

Gartner
We, at Frosmo, see personalization as creating a custom-tailored and seamless customer experience while leveraging the data about a person's needs, wants, and preferences. Personalization enables businesses to move away from the one-size-fits-all approach by presenting the relevant message at the right time across all touchpoints along the customer journey.
It's not just about brands trying to please the consumers. The demand for better customer experiences also come from consumers regardless of the industry.
Salesforce also found that 80% of customers say the experience a company provides is as important as its products or services. Interestingly, 57% of consumers are willing to share personal data in exchange for personalized offers or discounts. Similarly, 52% of consumers would share personal data in exchange for product recommendations, and 53% would do the same for a personalized shopping experience.
Personalization as a customer service
Think of personalization as a great customer service. Personalization is about helping your customers to complete the actions as smoothly as possible by offering them relevant content, products, or guidance.
The recent study by Gartner shows that brands generate more help for the customer to make progress on the buying journey with personalization and are likely to see a 16% lift in commercial benefit. The help could be i.e. making it easier to buy, providing assurance about making the purchase, teaching something new about the products or services, messages, or guiding products or services that could solve customers' problems or rewards with exclusive offers.
The personalization that helps the customer creates trust. According to a study by Salesforce, 95% of customers say they are more likely to be loyal to a company that they trust. Trust has a great business value as it creates loyalty.

The business value of website personalization
When customer needs can be anticipated, it's easier to enhance customer satisfaction and drive impact to the bottom line. Personalization establishes the foundation for the ultimate omnichannel experience, paving the way to enhanced customer experience across all channels and devices.
Benefits of website personalization to consumers:
Better overall experience

Increased and improved relevancy of content and experiences

Reduced clutter when visiting the site, which allows for faster interactions with the brand

Easier to find relevant products and services

More control over the customer experience

Improved engagement creates brand trust and loyalty
Benefits of website personalization to online businesses:
Brand credibility and enhanced authenticity

Improved customer insights and data

Increased customer satisfaction and more opportunities for customer engagement

Improved customer retention and customer acquisition, and better customer support

Empowered salespeople

Increased conversion rates, revenues, sales order values, and subscriptions

More traffic to the site and more customers through referrals

Improved brand association and loyalty

In the Gartner 2018 State of Personalization Survey, 87% of surveyed marketing leaders said that their organization is pursuing personalization. There are many reasons cited but ultimately, most companies aim to drive consumer engagement and completed purchases. Companies also report having to do less front-end development work as it's easier and quicker to do that with personalization software. Marketers also report a reduction in acquisition costs and improvements in conversion rates from advertising.
It's important to think of the business value of personalization on two levels; one is about making more conversions and revenues, and the other is reducing the expenses.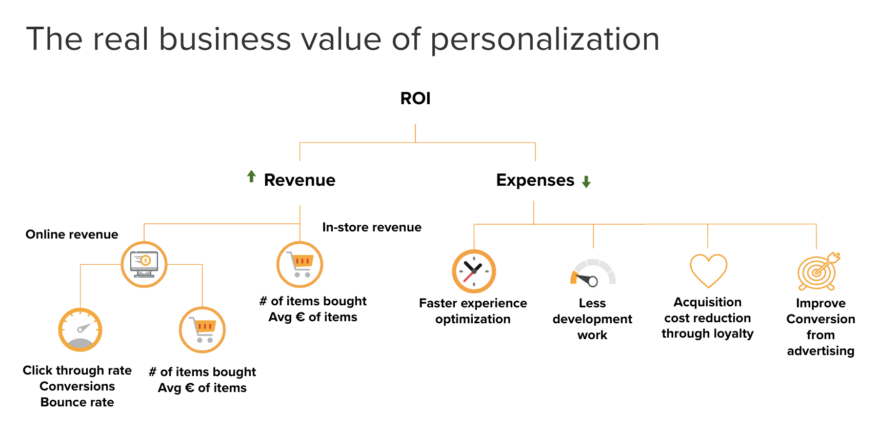 Personalization has a positive impact on the conversion rate and average customer value. The customers who complete transactions are more likely to return and share their experiences – and become loyal. The loyalty improvement is the "interest on interest" in personalization ROI.

Where to start the personalization

Before doing a process of change, it's good to understand the starting point. Personalization is a discipline that requires not only the technology but also processes and skills.
Personalization shouldn't be a one-time activity either – leveraging personalization and data-driven service design helps create the best experience and maximize business results.
Start by completing our personalization maturity assessment and get your personalized report on where to start.  We've put this tool together based on our experience with implementing personalization across industries and clients over the last 10 years.
Are you ready to start your personalization journey?