Rajala delivers fast, easy, and relevant personalized experiences with Frosmo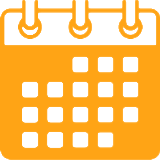 Rajala is a privately owned photo specialist chain founded over 100 years ago. With online and physical stores in Finland and Sweden, they sell photo equipment and accessories. Rajala's product selection and customer base have grown steadily, enabling the company to expand its operations.
Juhani Toppari, a photo enthusiast and a former photographer, found his calling in the real camera heaven, Rajala, the biggest camera retailer in Finland. He has been working at Rajala for 20 years now, at the same time they opened an online store called Rajala Pro Shop. Currently, he works as the marketing director and the ecommerce manager.
Why personalization is important for ecommerce businesses
Being in the business for over 100 years, Rajala has pretty good knowledge of what customers want, how to serve them, and how to make them happy. The camera industry has changed significantly since smartphones came, influenced by the availability of superior camera functions on these handy gadgets. Small digital cameras lost their charm and the business has shifted towards the high-end cameras for real photo enthusiasts.
The purchasing process of cameras is never linear. The planning phase for a new camera lasts about three months on average. Camera buyers will return to the website as many times as possible to see the latest offers and check out the best deals. They also visit the physical stores to have a look and feel of the cameras they plan to purchase. Lastly, they read reviews online on different forums and other websites before making their final decision.
Great omnichannel customer experience across different channels is very important and Rajala feels strongly that the level of the customer service has to be the same both in online and offline stores. They believe that creating more relevant experiences not only reduces the manual merchandising efforts but also increases conversions and the relevance of the customers' shopping experiences. With personalization, Rajala has been able to grow their conversions by 38%.  In this article, we explain how this was achieved.
Rajala has acknowledged from a long time ago that product recommendations are really valuable for online businesses, with their previous experiences with other companies. After several rounds of reviews from different solutions, Rajala decided Frosmo can cater to their needs more effectively through its AI-driven recommendation engine and personalization capabilities.
Offering irrelevant recommendations was Rajala's prominent pain point. To tackle this challenge, Rajala wanted a robust personalization strategy that's easy to start, fast to implement, and would help them remain relevant to their diverse customers. With Rajala's wide product assortment, Frosmo ensures that relevant products and content are recommended to each website visitor.
Frosmo combines AI and machine learning with creative human input. As Juhani puts it, "There isn't an algorithm yet that would know customer behavior the same way we do. We appreciate the automation that AI provides, but also want to tweak it ourselves to give the human touch and execute business plans in with best practice."
Rajala is happy with Frosmo for getting the help they need as fast as possible. Juhani also appreciates the fact that Frosmo does not slow the website, has great A/B testing and recommendations capabilities backed up with exceptionally good customer service. What else could an online retailer ask for?
Proper segmentation is key to smart product recommendations
With different buyer groups, customer segmentation according to interests and behavior is a crucial step for planning the customer journey to deliver personalized customer experiences.
At Rajala, there are 30 different segments. Among the popular ones are:
Segments related to products
Different levels of segments based on brands
Segments identifying people engaging with different marketing campaigns.
Recommending the right product at the right time of the buyer journey is key to a successful ecommerce business. Rajala has a lot of different products and brands so personalized recommendations make it easier for customers to navigate throughout the different product pages and make the experience much smoother.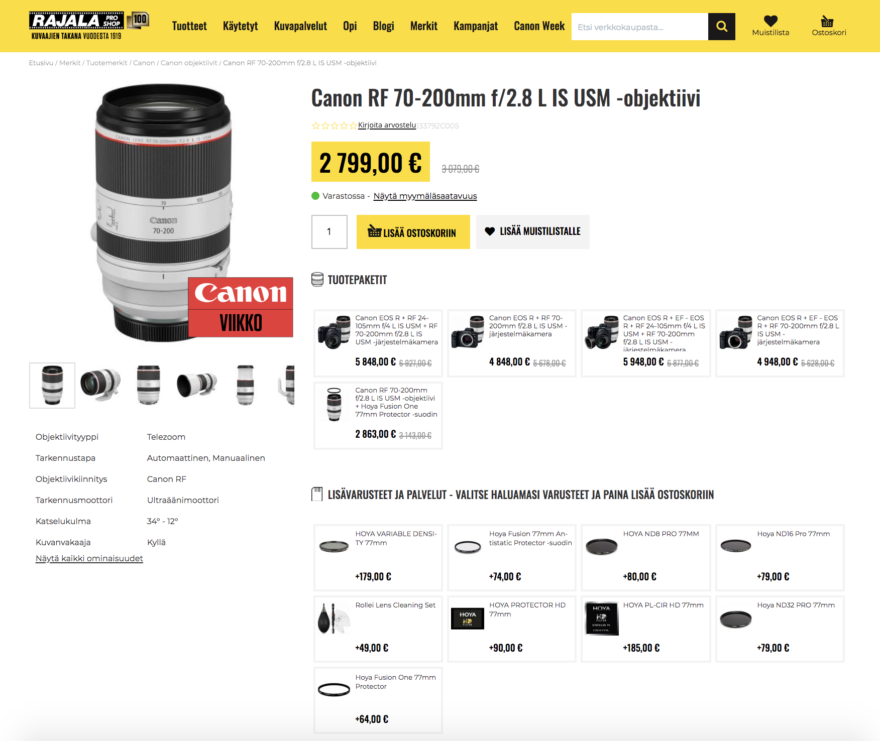 Ecommerce businesses find it challenging for buyers to add more items in the shopping cart as they usually would in physical stores. In physical stores, buyers rely heavily on the recommendations and feedback from competent salesmen. In online stores, Rajala replicates this customer experience through AI-driven personalized recommendations. They use automated product recommendations and banners to promote campaigns. Through smart recommendations, potential online buyers can see the products and accessories that would benefit them the most according to their profiles.
There are customers who are interested in cheaper camera models hence showing expensive accessories during checkout can only distract their final purchase decision. It's all about knowing the situation your buyers are in and their motives to get the purchase done as smoothly as possible.
Here are some of Rajals's recommendations strategies:
Recommending products that are most viewed or purchased by a visitor segment or the most viewed or purchased items in a product category
Last week's or last month's popular and trending items, or newly added products
Products related to recent purchases
It's very important to show the right accessories to the returning customers, who have, for example, bought a camera already. Exceptional customer service extends to recommending accessories that the buyer would benefit the most. Personalized recommendations on the front page make the revisiting buyer feel more welcomed thus leading to a smoother buying process.
KPIs and benefits of personalization
KPI's = Grow the average order values, increase revenues, and enhance loyalty
Effective personalization and smart recommendations are strategies to achieve the goals of an ecommerce business. The whole front page of Rajala is personalized by Frosmo. It shows the generic page for the first-time visitors but customized according to interests and behavior for returning visitors.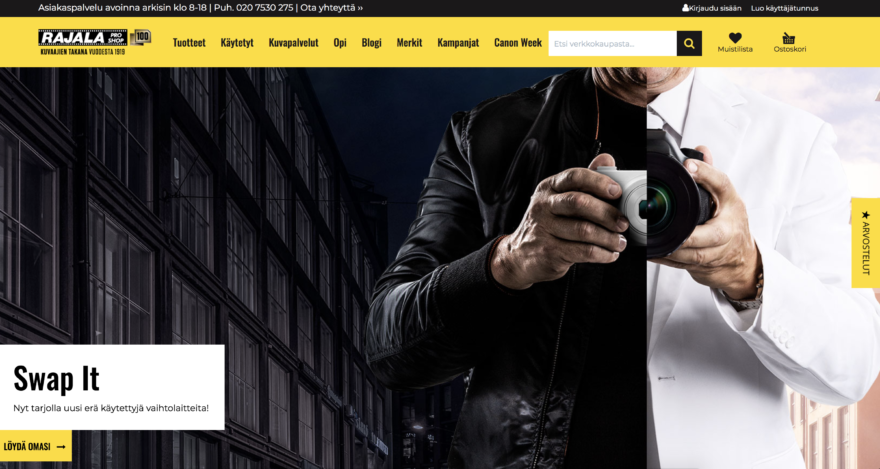 "We see personalization as the only way to reach ecommerce KPIs. Personalization makes the navigation easier for the visitor to find what they are looking for as friction-free as possible", Juhani says. "Recommendations help the buyer to select the best products and accessories and have a direct link to the bigger average order value. Customers are satisfied with the bundles they buy and keep coming back for more accessories", he adds.
Testing for better customer experience
With A/B testing, Rajala makes sure that the customer experience reflects customer expectations. At the same time, it gives the marketing team the information they need for data-driven decisions.
Rajala recently tested a feature by Frosmo where visitors can easily see the accessories associated with the product. They have not only the option to add them in the cart but they can also see the amount automatically calculated as they hover over the 'add to cart' option. This feature makes it easy for potential customers to make purchase decisions for the products they need.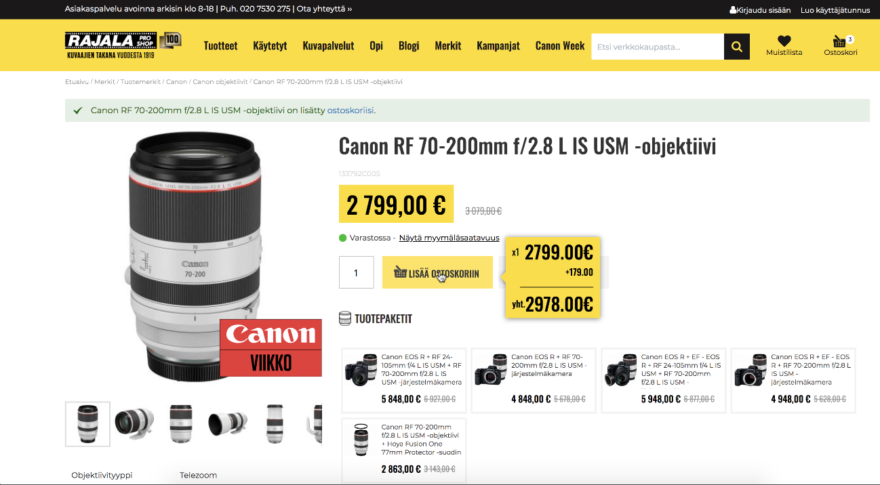 Rajala is also experimenting with the place of product filtering. Juhani notes, "We have a gut feeling of what would be the best place for the product filtering bar but we let the data guide us to the right placement so it's a data-driven decision and not just a hunch. The Frosmo Platform makes it easier for us to do testing and implement these changes directly on the website".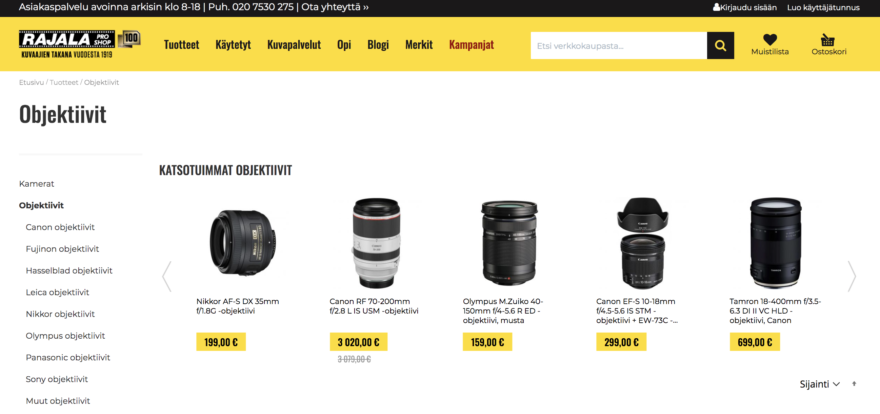 Personalization takes time and resources
Frosmo recommendations can start showing good results immediately, but it shouldn't just end there. To really get the best out of the personalization software, you need to allocate time and resources to effectively plan the strategies and constantly test and optimize the customer experiences.
Frosmo has helped Rajala in building new strategies and ideas on how to finetune the personalization, ie. creating different segments to serve their different buyers better.
Are you ready to see Frosmo in action?